Browse Nissan Work Trucks & Commercial Vans in Riverside, CA
Backed by America's absolute best commercial vehicle warranty, Nissan work trucks and vans are designed to go beyond the nine-to-five, to tackle projects head-on. They ensure you never miss a beat, go over budget, or drop the ball. With a Nissan commercial vehicle, there's no limit to how successful your business can be. Guess that's all in a day's work.
Contact our Riverside Nissan sales team and account managers at 909-546-4572 to discuss your commercial needs. And be sure to view our inventory of new Nissan commercial trucks and NV vans for sale in Riverside, CA to see how we can help you stay on task.
---
2019 Nissan TITAN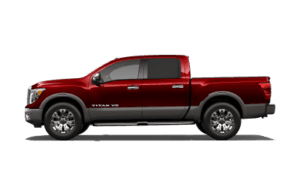 MSRP of $30,690
Trims: S | SV | PRO-4X | SL | Platinum Reserve
Max Payload: Up to 1,930 lbs.
Max Towing: Up to 9,660 lbs.
Engine: 5.6L V8 (390 hp and 394 lb.-ft. torque)
2019 Nissan TITAN XD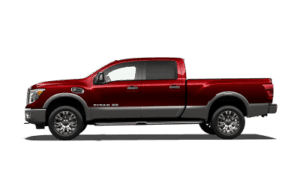 MSRP of $32,990
Trims: S | SV | PRO-4X | SL | Platinum Reserve
Max Payload: Up to 2,990 lbs.
Max Towing: Up to 12,710 lbs.
Engine: 5.0L Cummins® V8 Turbo Diesel (310 hp and 555 lb.-ft. torque)
---
2019 Nissan Frontier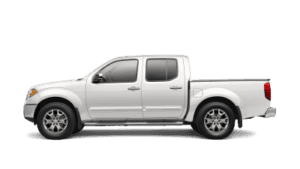 MSRP of $19,090
Trims: S | SV | Desert Runner | PRO-4X | SL
Max Payload: Up to1,460 lbs.
Max Towing: Up to 6,720 lbs.
Engine: 4.0L V6 (261 hp and 281 lb.-ft. torque)
2019 Nissan NV200 Compact Cargo Van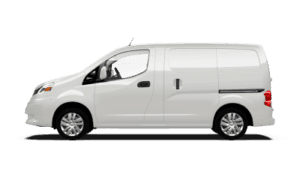 MSRP of $22,300
Trims: S | SV
Cargo Volume: Up to 122.7 cu. ft.
Fuel Economy: 25 MPG (combined)
---
2019 Nissan NV Cargo Van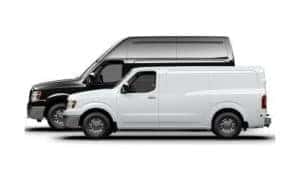 MSRP of $28,850
Trims: S | SV | SL (NV2500 & NV3500 HD only)
Cargo Volume: Up to 323.1 cu. ft. w/ High Roof
Cargo Height: Up to 76.9 inches
Engine: 5.6L V8 (375 hp and 387 lb.-ft. torque)
2019 Nissan NV Passenger Van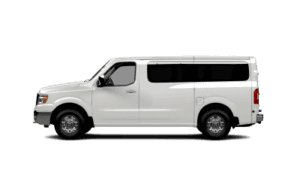 MSRP of $35,170
Trims: S | SV | SL
Cargo Volume: Up to 218.9 cu. ft.
Passenger Volume: Up to 12 passengers
Seating: 324 configurations
---